- abstracts are available upon registration -
In the last few years, a vibrant N-end rule research community has formed in Europe. It is now our aim to bring together researchers from established labs worldwide to exchange ideas about current topics in the fields of the N-end rule pathway and N-terminal protein modifications at a workshop entitled "N-term 2017: Proteostasis via the N-terminus".
 
This workshop will be held from September 11th-13th 2017 in Halle (Germany) at the Leibniz Institute of Plant Biochemistry (IPB) and we would like to invite you to join us for this exciting workshop. This is, to our knowledge, the first international meeting that will focus on the N-end rule and we believe it is a unique opportunity to bring together this large and diverse community.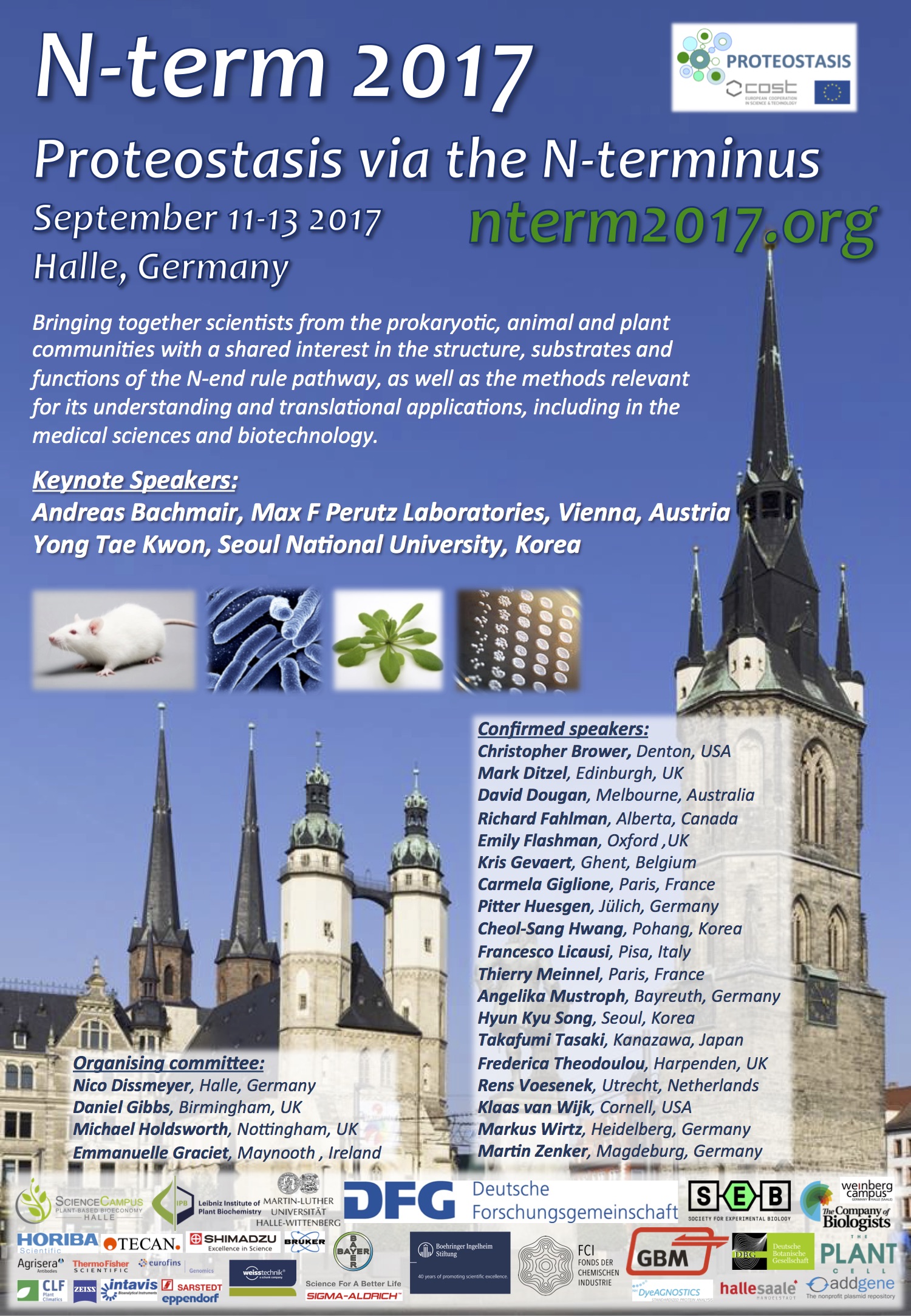 About
The workshop is limited to 40 additional participants and will gather scientists that work with bacteria, animals and plants as model systems. Invited participants all have a strong interest in the N-end rule pathway – its branches, structure, substrates, and functions - but also on methods relevant for its understanding and translational applications, including in the medical sciences and biotechnology.
There will be two keynote lectures, one on
- the day of arrival: Monday evening, September 11 by Prof. Andreas Bachmair (Max F. Perutz Laboratories, Vienna), and one on
- the last day of the meeting: Wednesday evening, September 13 by Prof. Yong Tae Kwon (Seoul National University).
We have so far received significant funding from the European COST Action 'Proteostasis' (http://cost-proteostasis.eu/) to bring together approximately 30 scientists who have a shared interest in N-terminal protein biology. Moreover, we are currently reaching out to further funding organizations. In the next few months we will know the full budget associated with this workshop and can release further information relating to expense coverage.
We hope that you are interested in our meeting and wish, once more, to cordially invite you to join us in Halle and mark the date in September 2017.
Looking forward to welcoming you in Halle,
 
Nico Dissmeyer, Daniel Gibbs, Emmanuelle Graciet, and Michael Holdsworth
on behalf of the European COST Action BM1307 on "Intracellular proteolysis pathways in health and disease (PROTEOSTASIS)"
Dates
The meeting will start on Monday afternoon and be closed with a joint dinner after the second keynote.
Arrival is therefore expected for all participants the latest the morning of Monday, September 11. Departure is suggested for Thursday, September 14, during the day to have two full days of discussions.